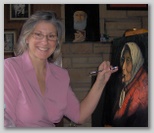 Join me for our blended Oil, Acrylic and Watercolour Group in Chase, BC. Call Chase Museum at 250 679-8847 to register and reserve your spot.

Be prepared to fall in love! I am excited about helping my Students to find their voices as Artists & my enthusiasm is contagious. This is an ongoing group with really positive people & the warmest, most nurturing environment you will ever encounter. My style is to coach individually, so all ability levels will thrive here.

Your own supplies (a canvas and a tabletop easel for Oils & Acrylics) are essential however, if this is your first time, contact me before you buy any other supplies - I allow you to "test drive" my tools!


Chase - Classes are presently on hold due to illness. :o(

"DRAWING THE LIGHT" Workshops are offered privately to groups and individuals in Kamloops and surrounding Communities. Results are quick and "Drawmatic", hones observation skills & makes you a better artist every time - no matter what medium you apply your new skills to! Joey coaches individually, so all skill levels feel comfortable and welcome. To book your 2 hour Workshop, e-mail joeynash@telus.net or call 250 679-7758.
GREAT IDEA FOR TEACHER "IN SERVICE DAYS"!


NEW!-ART IN SCHOOL PROGRAMS! I am now offering Teachers an exciting Menu of 1 1/2hr Directed Drawing and Painting experiences for their Students. We can even tailor these classes to fit the school curriculum! I will teach 2-3 classrooms within the same school per day at a cost of $4-$5 per student (depending on amount of materials supplied by school). This will, again, make valuable and affordable Art Enrichment available to our young people! Hurry-Taking Bookings now.

ALSO, CONSIDER MURAL PAINTING - Check out Murals Page for Info!